Home
| Merchant & Happy Cards
Merchant & Happy Cards
Buy Brand Reward Cards At Wholesale Volumes
Provide more than cash. Create a memorable experience for your recipients. Merchant & Happy Cards are a cost-effective option for a premium reward.
All merchant reward cards can be personalized for your recipient. Plastic cards are printed the next business day. eGift Cards are sent immediately to recipients.
eGift Cards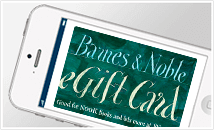 Merchant eGift Cards are a cost-effective and fast reward option. Choose from top brands including Amazon.com, CVS and Barnes & Noble.
Gift Cards
Provide a memorable reward with Merchant Gift Cards. We ship bulk plastic merchant cards directly to you.