Promotional Inserts
One of the services we offer that really separates us from our competitors is the ability to tie-in additional promotional collateral and messaging to your incentive or rewards program. We believe that when fulfilling a reward there are new opportunities to get in front of your customers and drive additional actions.
In addition to the branding of your prepaid rewards card, we offer the following marketing add-ons.
Custom Carriers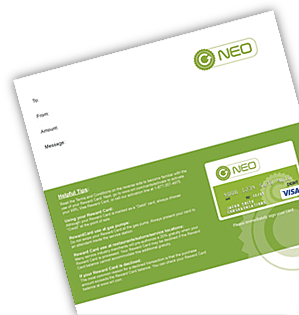 Each prepaid reward card is affixed to an 8 x 11 sheet of paper called a carrier. We include our default carrier with the OmniCard logo on it for free. For a small fee you can fully customize the look and feel of your own carrier to better display your brand and provide additional offers you may want to communicate to your recipients.
Custom carriers are only available if you have an approved CoBrand Reward Card with us
There are NO minimum commitments
Pricing is based on quantity per order. The larger your order, the lower the price.
Set up time is typically around 1 week
Custom carriers may add 1 additional business day to fulfill your prepaid card orders
Marketing Inserts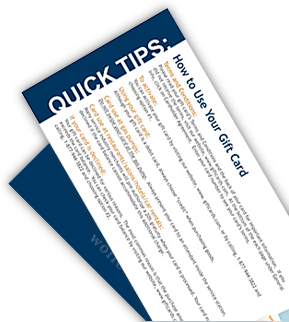 In addition to customizing the carrier, you have the option to include up to 3 marketing pieces with each prepaid reward card. When a recipient receives a prepaid card, you have their full attention and adding a marketing or communication piece can drive immediate action. Some of our clients use this to send a thank you letter with the reward card, a brochure about new products or services, coupons or special discounts, or employee communication pieces. Inserts are available as a

full page (8 1/2 x 11) or as Buck Slips.
Promotional inserts also require that you have an approved CoBrand Card with OmniCard.
There are NO minimum order requirements.
Pricing is tiered per order based on quantity.
Set up time is usually 1-2 weeks.
The inclusion of custom inserts may add up to 2-3 additional business days to fulfill your prepaid card orders.
There are two standard insert sizes we support.