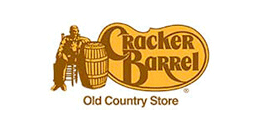 Buy Cracker Barrel Gift Cards in Bulk
Cracker Barrel is an American restaurant chain and gift store with a Southern country theme. The restaurant serves traditional comfort food including grits, biscuits, country ham and turnip greens.
OmniCard specializes in employee rewards, sales incentives, marketing promotions, wellness incentives, and much more. Use Cracker Barrel gift cards for a successful and memorable rewards program. Buy in bulk using our easy-to-use client web portal or automate the process using our API Platform.