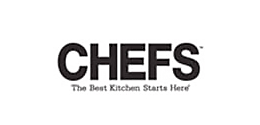 Buy CHEFS Catalog Gift Cards in Bulk
CHEFS Catalog provides top-quality, durable and high performance kitchen equipment. Consumers can purchase items including cutlery, tableware, cookware, kitchen electronics and bakeware.
OmniCard specializes in employee rewards, sales incentives, marketing promotions, wellness incentives, and much more. Use CHEFS Catalog gift cards for a successful and memorable rewards program. Buy in bulk using our easy-to-use client web portal or automate the process using our API Platform.