Predesign Reward Cards
Corporate Prepaid Reward Card Programs That Fit Your Needs
OmniCard's universally accepted prepaid reward cards can be used anywhere Visa or MasterCard Debit Cards are accepted.
We offer a wide variety of card designs that can be loaded with up to $2,500 per card and shipped within just 2 business days of receiving payment.
Each card is personalized with up to two lines of raised text and can be sent attached to a free paper card holder or professional greeting card
Each order can be shipped directly to your reward card recipients via USPS First Class Mail or sent FedEx Overnight to a business location.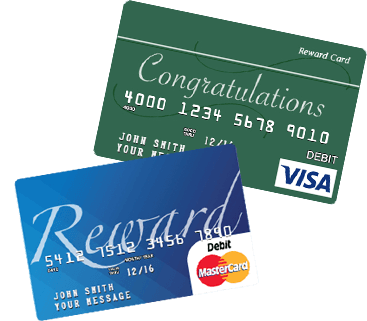 Holiday Cards
Click on a card below to see how each is personalized
Customer Reward Cards
Click on a card below to see how each is personalized
Employee Incentive Cards
Click on a card below to see how each is personalized
Health & Wellness Cards
Click on a card below to see how each is personalized
Miscellaneous Award Cards
Click on a card below to see how each is personalized