Prepaid Cards That Return Unspent Balances
100% Clarity & Control Over the BreakFree Rewards Program
The BreakFree Rewards card is unlike any other prepaid card out there. This product is a universally accepted Visa or MasterCard Prepaid Card that functions exactly like our standard Reward Cards & Branded Reward Cards. But with BreakFree Rewards you have access to run spending trend reports, see the balance available for any card, communicate to your recipients through our interface, and best of all ANY unused funds on a card are sent back to you.
This product is ideal for customer facing incentive programs such as rebates or retention and help you to better understand your customers spending patterns.
Here is what you get with BreakFree Rewards:
---
Advanced Reporting
Breakdown of Shopping Trends based on Merchant Categories
Detailed view of where cards are being spent out by geographic location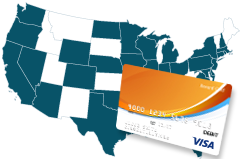 ---
Real-Time Card Balances
Track the overall usage of your cards anytime or look up individual card balances as needed
Use this information to direct customers to your website or call-center for balance checks to continue a dialog with them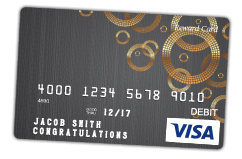 ---
All Unused Funds Returned
Choose an Expiration Term for each card from 3-24 months.
After each BreakFree Rewards card has expired or you close it down, any unused funds are returned to you
---
Communication Tools
Send emails to your reward participants manually for special promotions or offers
Set up auto emails to be sent notifying a recipient that their card is due to expire soon.