Branded Reward Cards
Custom Visa, MasterCard, & Discover Prepaid Reward Cards
A Branded Reward Card is the perfect way to extend your company's appreciation to your employees, customers, and partners. Providing check payments as a reward is easily forgotten by the recipient. Products choices are often undesirable. Visa, MasterCard and Discover Branded Reward Cards are universally accepted and enjoyed… with your brand there as a reminder.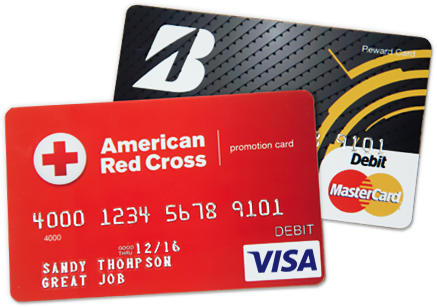 We Offer 3 Branded Card Styles to Choose
Getting Started
Because we manage our own printing and fulfillment facility, we are able to turnaround Branded Reward Cards faster than our competitors. Please note that each new card design is thoroughly reviewed to ensure that it complies with the Visa, MasterCard or Discover branding requirements and general best practices. Here are the typical requirements and timeframe to launch:
1
Create an OmniCard Account, submit a Cobrand application with your card's artwork, and make your payment.
1 Day
2
Our compliance team will review your card design & application. Provided there are no questions, we submit it to Visa, MasterCard or Discover for approval.
1 Day
3
Visa, MasterCard or Discover review.
2-5 Days
4
Print test card and set your branded reward card live.
1 Day