Case Study - Advantage Point Learning
Advantage Point Learning
The Program
Advantage Point Learning was formed with the singular goal of providing excellence in the delivery of basic academic skills instruction. They are the Pacific Northwest's leading provider of private educational services from pre-school through high school. Advantage Point developed a program to award prepaid cards to students who achieve milestones in their tutoring program, have perfect attendance or hit other academic goals. Awards are given out throughout the year to further motivate students towards higher achievement. The site coordinators are also able to use these reward cards in marketing efforts to promote Advantage Point and their tutoring programs.
Why OmniCard?
Advantage Point Learning had been using Apple products like iPods along with gift cards from Wal-Mart and Fred Meyer as incentives for their students. They needed more flexibility since many of their locations are in rural areas that might not have easy access to retail stores like Wal-Mart. After searching online for a new solution, they came across OmniCard's prepaid rewards program. They were able to add their logo on the card and fully customize the solution. The Purchasing Department has complete flexibility in the program to order different denominations of cards and have them processed on demand. Students have been very receptive to the program because these cards can be used wherever Visa debit cards are accepted.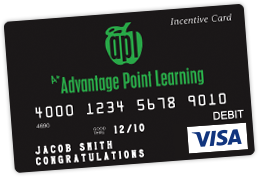 "We love the flexibility and simplicity of OmniCard's reward program. They were able to fully customize a solution for our business and we always have great communication with an open line to sales whenever we need anything."
Jennifer Rogers - Purchasing Manager