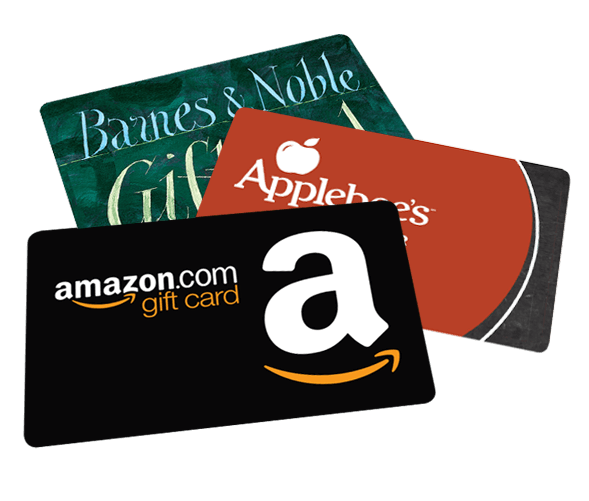 Merchant Gift Cards
Popular Brands. Order in bulk.
Perfect for any employee or client reward program
Choose from a selection of top national brands
Available in any denomination*
Order in bulk and ship directly to you
Available Merchants
Amazon.com
Applebee's
Aquarium
Babins
Bahama Breeze
Barnes & Noble
Bass
Bayside Grille (Kemah)
Bean & Bread (GNAC)
Big Fish
BloominBrands
Boardwalk Inn
Bonefish Grill
Brenner's
Bubba Gump
Cabela's
Cadillac Bar
Cameron's Steakhouse
Captain Crab
Carrabbas
Charley's Crab
Chart House
Claim Jumper
Columbus Fish Market
Crab House
Darden
Eddie V's
Edwards Theaters
Einstein Brothers Bagels
FantaSea
Fish Tales
Fisherman's Wharf
Fleming's
FootLocker
Flying Dutchman
GameStop
Gandy Dancer
Golden Nugget
Grand Concourse
Grill & Bar
Grotto
Harlows
Heathman Restaurant
IHOP
Jake's
JCPenney
Kemah Boardwalk
Kohl's
Kuleto's
La Griglia
Landry's
Lighthouse Buffet
L.L. Bean
Longhorn Steakhouse
Lowe's
M&S Grill
Macy's
Mai Tai Bar
McCormick & Schmicks
McCormicks Fish House
Meriwethers
Mitchell's Fish Market
Mitchell's Steakhouse
Morton's
Neptune's Waterfront
Noah's Bagels
Oceanaire
Olive Garden
Outback Steakhouse
Papa John's
Panera Bread
Peohes
Pizza Oven (Kemah)
Pleasure Pier
Rainforest Cafe
Red Lobster
Red Sushi
River Crab
Rusty Pelican
Saltgrass
San Luis Steakhouse
Seasons 52
Sephora
Simms Steakhouse
Speedway
Spengers
Sports Authority
Staples
Sweet Scoops
T-Rex
The Capital Grille
The Home Depot
Trevi
United Artists Theaters
Vic & Anthonys
Willie G's
Yard House
*The merchants represented are not sponsors of the OmniCard.com Gift Card Program or otherwise affiliated with OmniCard.com. The logos and other identifying marks attached are trademarks of and owned by each represented company and/or its affiliates. Please visit each company's website for additional terms and conditions. Denominations vary by merchant.
Darden Restaurants, Inc. owns or has a license to use the Olive Garden®, LongHorn Steakhouse®, Bahama Breeze®, Seasons 52®, Yard House® and Red Lobster® trademarks, and is not affiliated with OmniCard.
Use of the restaurant names, logos, or other trademarks requires prior written approval. © 2015 Darden Concepts, Inc.
Barnes & Noble is not a sponsor or co-sponsor of this promotion. Please see back of gift card or visit www.bn.com for terms and conditions of use. Barnes & Noble is not liable for any alleged or actual claims related to this offer.